Interested in learning more about Teal?
Bruce Peters and Cheryl Adas would love to come talk to you about how you can move your organization towards a Teal organization. Fill out the form and one of them will be in touch to set up a meeting.
(private group)
May Meeting: Wednesday, May 31, 2017*
*Note-Special meeting date
Time: 8:30am - 1:00pm
Location: The Country Club of Rochester
---

Facilitative Leadership Program (FLP)
FLP V
Dates:
June 13, 2017
June 20, 2017
June 27, 2017
Location: ITX, 1169 Pittsford Victor Rd #100, Pittsford, NY 14534
Time: 8:30am -1:00pm
---
Beyond Teal Culture, Strategy, and Profits
Location: The Country Club of Rochester
Why do organizations focus on engagement when what they really want is staff that can reach their greatest potential? This program will address how organizations achieve a strong sense of purpose, function as a whole, and organize around self-leadership, featuring case studies of how companies like GORE, Patagonia, Morning Star and more found the secret to more profits and a happy workforce.
A panel of executives -- including a team from Optimax, a Rochester success story -- will discuss their paths in implementing self leadership and teal concepts.

SAVE THE DATE

Prosperity Conference
Sponsored by Venture Jobs Foundation
Thursday, June 1, 2017
Time: 8:00am - 1:30pm
Location: Holiday Inn - Downtown
The purpose of this second annual conference is to harness the wisdom of impact investing strategists who have knowledge to share about deploying capital for profit and purpose. The conference will bring together national innovators and local thought-leaders to share best-practices and lessons learned on how to increase capital for businesses critically important to addressing poverty and inequality by creating job opportunities. We are particularly intrigued with the new initiatives you are leading and know our audience would benefit from learning more about your work.
Please contact Dennis DeLeo, VJF's President & Director at dmdeleo@venturejobs.org or, Jill Freeman, VJF's Director of Strategic Partnerships at jfreeman@venturejobs.org (or via 202.412.2176), should you have any questions or need further information.
Speaker/Moderator: Bruce Peters - Setting Worker Owned Coops Up For Success
Speaker: Mark Rowland - Preparing Main Street Businesses to Attract Impact Capital
The Red Pill | ROCETEER™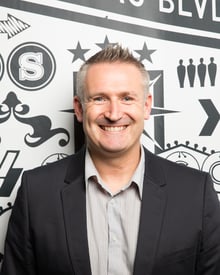 Mark Rowland has had 25+ years working with multinational companies and also small/medium sized businesses, startups and communities. Most recently he is CEO of DTP Ventures in Las Vegas managing the Downtown Project where over $100m was invested in small businesses and tech startups. Mark is also the CEO of ROCeteer, the coaching and mentoring arm of the Downtown Project. Mark has worked within investment portfolios, leased with local government and supported Tony Hsieh's purpose of making Downtown Las Vegas a place of inspiration, innovation and entrepreneurial energy.