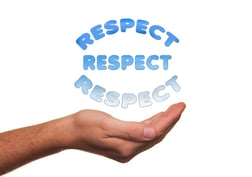 Tom Friedman in recent NYT piece, suggests an idea for Joe Biden's bumper sticker:
7/1/2020 Opinion | This Should Be Biden's Bumper Sticker — The New York Times
I have a better idea for Biden's bumper sticker, actually for all. As I think about what kind of president America needs, the slogan that comes to mind was suggested by the environmental innovator Hal Harvey. Harvey didn't know he was suggesting it; he just happened to sign off a recent email to me by writing:
"Respect science, respect nature, respect each other"
Although, admirable from a message perspective this seems way too much information for a bumper sticker. This, also, puts aside that bumper stickers are not the best current mode for messaging. I could bumper stick the entirety of my automobile in support of the cause, but what's the point, it will only be seen by me or the delivery folks leaving stuff in my garage.
So the motto needs to be a message that could be on a hat, tee shirt, flag or coffee mug. Let's face it BLM, and MAGA caught on!
What could the messaging be?
"Respect" was the first came to mind. Besides short and sweet it comes with it's own powerful theme song. Aretha Franklin belts it out "RESPECT" with lyrics that include "sock it to me". (Lyrics follow below)
This, also, reminded me of a quote from Margaret Wheatley that I first saw in a, prescient of our times, article written in the late 1990's. The article was written about in "The Promise and Paradox of Community".
"Take Care of Yourself"
Take Care of Each Other"
Take Care of This Place"
She describes how she came upon these words/concepts:
"In our own work, we have seen these communities in schools, towns, and organizations. They create themselves around a shared intent and some basic principles about how to be together. They do not get into a prescriptive role with one another. They do not found their community on directives, but on desire. They know why they are together, and they have agreed on the conditions of how to be together. And, very importantly, these conditions are kept to a minimum of specificity. One of the most heartening examples we've encountered is a junior high school that operates as a robust community of students, faculty and staff by agreeing that all behaviors and decisions are based on three rules, and just three rules. These are: "Take care of yourself. Take care of each other. Take care of this place." These rules are sufficient to keep them connected and focused, and open enough to allow for diverse and individual responses to any situation. (The fact that this worked so well in a junior high environment should make us all sit up and take notice!) The principal reported that after the building had to be evacuated during a rain storm, he returned last into the building, and was greeted by eight hundred pairs of shoes in the lobby. The children had decided, in that particular circumstance, how to "take care of this place."
Take care and respect yourself, each other and this place!
Aretha Franklin sings it best in her lyrics of "Respect":
R-E-S-P-E-C-T
Find out what it means to me
R-E-S-P-E-C-T
Take care, TCB
Oh (sock it to me, sock it to me, sock it to me, sock it to me)
A little respect (sock it to me, sock it to me, sock it to me, sock it to me)
Whoa, babe (just a little bit)
A little respect (just a little bit)
I get tired (just a little bit)
Keep on tryin' (just a little bit)
You're runnin' out of fools (just a little bit)
And I ain't lyin' (just a little bit)
(Re, re, re, re) when you come home
(Re, re, re, re) 'spect
Or you might walk in (respect, just a little bit)
And find out I'm gone (just a little bit)
Source: LyricFind
---
Leaders search for opportunities to change the status quo. They look for innovative ways to improve the organization. In doing so, they experiment and take risks. And because leaders know that risk taking involves mistakes and failures they accept the inevitable disappointments as learning opportunities.
Because these learning opportunities are often the best time for leaders to reach outside their organization for help, Beyond Teal presents: Executive Leadership Guidance